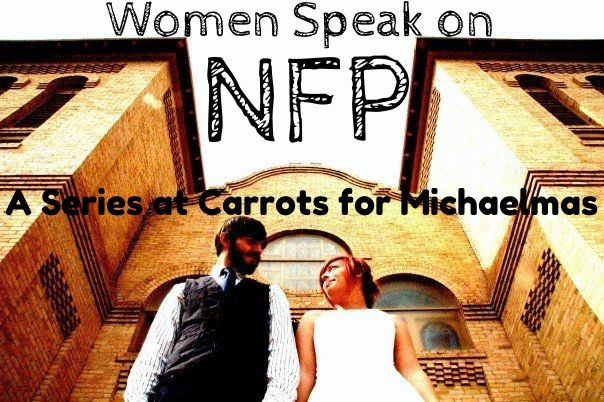 As a Catholic woman seeking to follow Church teaching about marriage, fertility, and sexuality, I'm concerned about the lack of resources for couples to become equipped to practice Natural Family Planning (NFP). So many faithful and well-intentional Catholic couples have either been inadequately educated and encouraged in Church teaching regarding contraception and do not know how to implement those truths in their marriage, or their diocese (like mine) has no NFP classes or resources readily available to help them learn NFP. If we truly believe that Church teachings about marriage, fertility, and contraception are true, good, and beautiful, we need to help couples embrace those truths by giving them the education they need to practice it.
Since our conversion to the Catholic faith in 2010, we haven't been avoiding pregnancy (we call it Awesome Family Planning, or AFP) and have been blessed with two little girls (one 18 months and one arriving this May) in addition to our 4-year-old son. Apart from very severe morning sickness, my pregnancies have had no complications and we've been able to provide for our children financially. In our current situation, there are no grave circumstances that would prompt us to avoid pregnancy and we embrace ecological breastfeeding as natural child spacing. However, what if there was a grave concern? What if a health crisis made a subsequent pregnancy highly dangerous? What if my husband lost his job?
A Catholic marriage is called to always be open to life, but the Church does provide families with the option to space children through natural family planning in cases of severe physical or financial strain. If we were in a situation prompting us to avoid pregnancy, I wouldn't know how to begin learning a method of NFP! I wouldn't know which method to be trained in! Since there's no classes offered within a two hour drive, I would want to be sure that the method we chose was the right one for our family since it would be a big commitment to pursue training. I have spoken to so many women in a similar situation and this is why I wanted to run this series of women speaking about their experience with various methods of NFP to provide some resources in order to learn more.
In this series you will hear from women using various methods of NFP -some to avoid pregnancy, some trying to conceive- and their experiences. Some began using NFP for religious reasons, some for health reasons. Some are Catholic and some are not. I'm excited to hear from some of our Protestant sisters about why they find NFP valuable to their marriages and spiritual life and to share and celebrate this commonality with them!
IMPORTANT! Disclaimer: This series is not meant to be a substitute for any method of training in NFP! If you are interested in one of the methods introduced in this series, please contact a certified instructor for information about training in that method of NFP. For some women, learning NFP is a piece of cake, for others it's very tricky. In other words, don't simply read this series, assume you've got the idea and then send me angry emails because your attempt at NFP was unsuccessful. This series is merely meant to give you an idea of several women's experiences and point you in the right direction for further resources!
I've got some great posts lined up from some inspiring women and I can't wait to share them with you!
UPDATE: These are the posts in this series that have run so far (more to come!):
If you're wondering what all the fuss is about with Catholics not contracepting, you might want to look into some posts from the archives: