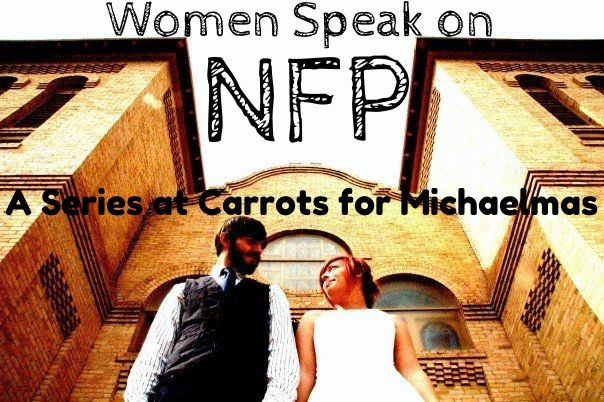 This is a guest post by Michaela of Making Life Divine in the Women Speak on NFP series. In this series you will hear from women using various methods of NFP, some to avoid pregnancy, some trying to conceive, and their experiences.
Disclaimer: This series is not meant to be a substitute for any method of training in NFP! If you are interested in one of the methods introduced in this series, please contact a certified instructor for information about training in that method of NFP. 
My story is complex and controversial to say the least. Granted, I am fortunate in many ways. I am a young stay at home mom. I have a 19-month-old son and I'm 19 weeks pregnant with baby #2. My son is by all appearances healthy at 19 months and I can only pray to God that He blesses me again with a healthy baby. We are a military family, currently in Florida though Arizona is "home".
My husband and I were married in the Catholic Church. I am Catholic and he is not. I am my husband's 2nd wife. I never EVER thought I would marry a divorced man or a man who is 13 years older than me, but I ESPECIALLY never wanted to marry a man who already had a kid.  My husband never would have stood a chance if our meeting had occurred differently. (That is an entire story of its own)
He has a son from a previous relationship who is now 13 years old. He is Autistic. He is considered "low functioning" on the spectrum, but I believe he knows everything you say even if he's never spoken a word. Despite his challenges, he's generally considered healthy… what a loaded word. I did not know his son when we got married, but I knew that I could love a man who could love a child with such challenging needs. I didn't know how hard it would be though. I was a new wife, a new mom, and I had a role I never wanted as wife-of-a-man-with-another-child, and not just any other child.
Why do I bring this up? What does this have to do with NFP? For us, NFP was everything. It was everything from becoming healthy as fertile individuals to prevention of pregnancy thru planned conception. Natural. Family. Planning. It's not about a method. It's not about an iPad app (though I use both). It's about a journey to have faith in God and build a family.
Natural: There is NOTHING anyone does to directly cause Autism in his or her child. NOTHING. However, the rates are skyrocketing, why? There are now studies that suggest maternal pre-conception and first trimester folate levels, maternal health and illness prevention and genetic composition are significant components. To me, another big one was how hormonal contraceptives change mating behaviors. (AKA, take your Folic Acid, stay healthy, be aware of the effects of hormonal contraceptives on sexual attraction, and don't marry someone just like you genetically). The cause of Autism is multifaceted, theoretical in many ways, maybe this, maybe that…it's never-ending, but I had to do the best I could and leave the rest to God (but I didn't know that lesson yet).
I had been using Hormonal Contraceptives for over a decade. I never considered what I was doing my body until I became Catholic and became a nurse with greater understanding of medication and its responsibilities and consequences. Contraception in marriage was something we knew we would forgo. I tossed boxes of OrthoEvra in the trash! I felt liberated. I was ready!
Family: We talked during our marriage prep about being open to any children God would give us. I have wanted children my WHOLE life. But, my biggest fear was, what could I do to prevent my children having Autism? The fear was almost enough to make my husband feel that it wasn't fair to "do that to me". Would we not have kids? Being a mom was all I've ever wanted. Ultimately, we talked about the biggest thing we knew decreased risk of Autism – the gender.
Did I mention my husband is 1 of 5 boys, 0 girls. Of those 5 boys they've had 11 children – only 3 girls. No woman (there are 7) has birthed a girl first (just saying). I practically married into a dynasty!
Planning: Autism is more prevalent in boys. The current statistics are 1 in 88. That's OVERALL. It's actually 1 in 56 boys.  It is also more common in siblings when one already has a diagnosis on the spectrum.  The risk in direct siblings, if the next child is a boy, is over 25%. But half-siblings 12 years apart? No one knows. All providers I ever talked to told me that any given pregnancy carries a 4% risk that SOMETHING will be "wrong". Less than 2% of boys will be diagnosed with Autism.
While I was deployed (our entire engagement) I read the book by Dr. Landrum Shettles, How To Choose the Sex of Your Baby. Why? Because he talks ALL about NFP Science: taking temps, reading mucus, understanding how babies are made, and the differences in making those babies. (Gist being, if you pinpoint ovulation you can skew your chances of conceiving one or the other based on how close to O-day you have intercourse.) I knew that if I had a girl, we had a better chance of not having a child with Autism.
What does the Church say? Well, my understanding is that it's accepted to use natural gender selection methods because you use the same methods in selecting which days to be intimate and which days not to be, so long as you realize that God will give you what you are meant to have and if it's not what you "want" then you are to still be loving and open to the gift you created, just like if NFP "fails". The Church understands couples need consider health risks when preventing or achieving pregnancy. There's that word again, health. For us, health risk included considering how to mitigate risk of Autism by gender preference.
Some plans don't go the way you want them: Guess what happened? We got married; we tried for 3 months charting temperatures, observing for mucus, and documenting it all on Fertilityfriend and NOTHING. So, we decided to "wait a year". I was in Colorado Springs on Active Duty and Joe was in Phoenix at his civilian job anyway. The night before he left, with no egg white cervical mucus noticed, on day 14 of what would have been my first "normal" cycle since throwing away the patches months earlier, while using Ovulation Predictions Kits that had read negative, we conceived our first child. I knew right away he was a boy.  I was scared out of my mind. What had I done? NFP had not failed me. I had failed to understand it.
I did everything I could in the first 20 weeks to determine if he was a boy or a girl. I peed in cup and watched glitter turn green in a split second; I did Chinese calendars, midwives tales, the ring on a string. They all said BOY! We went to our ultrasound and VOILA! BOY PARTS! I was DEVASTATED. I cried and cried. I felt selfish for ruining my husband's happiness because the doctor told us that everything was healthy. His brain was the right size, his heart was beating strong, his face showed no clefts, he had two feet, two hands, a complete spine, and I'm CRYING because he's a BOY?! I'm such a horrible person. I couldn't admit this to my provider or anyone!  I became extremely depressed. I didn't understand God's plan over my plan.
I delivered my son naturally and when he was placed in my arms I began to wonder, would he love me? Would he hug me? Would he show me something precious to him and want to share it with me? As mothers, we are gifted with unconditional love, but I was so scared. When he was 4 months old I had to let go of my fear because it was ruining my mothering experience. I had to give my fears to God. And when I did, I watched my son grow; meet his milestones and I celebrated them even more! I have pictures of everything he does. I LOVE my son more than I ever imagined. He is a Mommy's BOY. BOY being the operative word. Cars. Rocks. Animals. Throwing balls. Tooting in the tub. B.O.Y.
Planning (Round 2): So when it came to #2, what do we do this time? I thought about not having any more children and I even thought about spacing with hormonal control until my son was deemed developmentally appropriate or not. I felt it might be my only choice to ensure his health before we brought another life into this world. After much prayer, we gave it to God.
To space our children, we practiced exclusive breastfeeding for the first 6 months and continued breastfeeding through his first year (we still are), I took my PNV's with at least 800mg of Folic Acid, and watched for fertility signs. I got my first cycle at 8 months post delivery but I did want to ensure that my son was 12 months old and had had his 12-month check up before conceiving again. The AAP now recommends that all children be formally evaluated for Autism at their well checks (Linc has been evaluated at 9, 12, and 18 months). AND Child Spacing of at least 12 months from birth to conception decreases chances of Autism in the subsequent child. Although 3 years is recommended, we didn't feel waiting 3 years was something we were willing to do. I was still nursing; I was charting all possible symptoms and observing for CM. If I thought there was something, we shared our love in other ways.
I didn't have another cycle again until just before my son's first birthday. I was using my fertility charting iPad app, counting days, and looking for CM (for serious this time). We talked about "going for the girl" again. We really didn't care either way, but my husband has 2 sons and a girl would be nice. So, we left it on the table and we abstained around the most likely fertile days per the Shettle's Method until I got the news that the Army was planning to mobilize me this coming fall. It was time to make a baby! It was in God's hands to give us who He wanted us to have. I prayed A LOT, I paid very close attention to my symptoms and CM, and on day 19 in January of my 4th cycle we conceived Baby #2. Ultrasound confirmed (and still does) to the day what I already had charted – conception on day 19. We utilized the fertile CM symptoms to time our conception. We say baby #2 is also a boy. We do not plan on finding out until the delivery – not because I will be devastated if it's a boy (I won't be) but because we want the surprise!
God taught me by giving me my son that He is the Ultimate Creator. Out of a quarter billion sperm, my son was the winner the night that he was made. NFP did not fail me. God knew better than I what joy my son would give me and what appreciation I would gain for His guidance.
Am I still worried? ABSOLUTELY. Hormones, pregnancy, the unknown, the whole caboodle makes me a wreck if I get too wrapped up about it. I just have to consciously give my fears to God and pray for a healthy baby-in all ways.
Thank you for giving me the opportunity to share with you. This is a very difficult topic full of fear, hope, and ultimately faith- faith that I can be open to God's plan no matter what it holds, and answer his call if I am chosen to bear a child with Autism or any special challenge. No matter who comes along, or what conditions they may have or acquire in life, they are blessed by God and I will love them unconditionally.
Michaela is a military wife, RN turned stay-at-home-mom, and soon-to-be mother of 2! Despite being a Pinterest/Facebook/BlogLovin' addict, Michaela enjoys self-portrait photography, scrap booking, and playing piano. Michaela writes about the joys and challenges of her life and family at Making Life Divine.